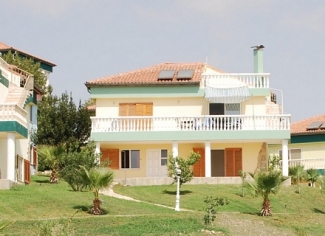 At the moment this villa in Belek, Turkey is not available to rent but we suggest you visit www.come2stay.co.uk and also www.holiday-home-rentals.co.uk where you can see a selection of similar holiday villas for rent.
Four bedrooms, three with double beds, & one with 2 single beds. 2 Bathrooms one with bath & shower ; one only shower. Two of the rooms have balconies. 2 rooms have individual air conditioning controls – 2 other rooms have fans. A baby bed is available.

Main living room has seating for six with a one seater, two seater a three seater sofas. The dining table seats eight. There is a further eight seat terrace equipment & six sun loungers with necessary cushion.

Facilities include, TV with DVD player, IPod stereo unit (no IPod supplied), Dish washer, Washing machine, fridge, freezer, Iron and ironing board, cleaning equipment, + All you could need for a self catering holiday Towels and lined is provided for use in the villa including towels and beech towels.

Excursions to the many beautiful surrounding attractions can be organised with Erkan the site manager. There is diving available. There are more than 10 exclusive golf courses within 15 mins of the villa. On average playing one of these world class golf courses will cost around 75euro. Ancient ruins abound and an evening spent watching a show in a genuine Roman amphithecia is not to be missed, about 10 minutes from the resort.